Pharmaceutical Delivery Systems
Transmucosal Delivery
Although the available area for transmucosal delivery is much smaller than the one for dermal delivery, the transmucosal pathway offers a number of advantages:
Nearly instantaneous resorption of suitable formulations
Avoiding first-path elimination
Easy and fast reachability of nearby organs (short ways)
Allocation of pharmaceutical actives only to a well-defined area
Treatment is possible for patients with intestinal failure
non-invasive treatment
Bucal Delivery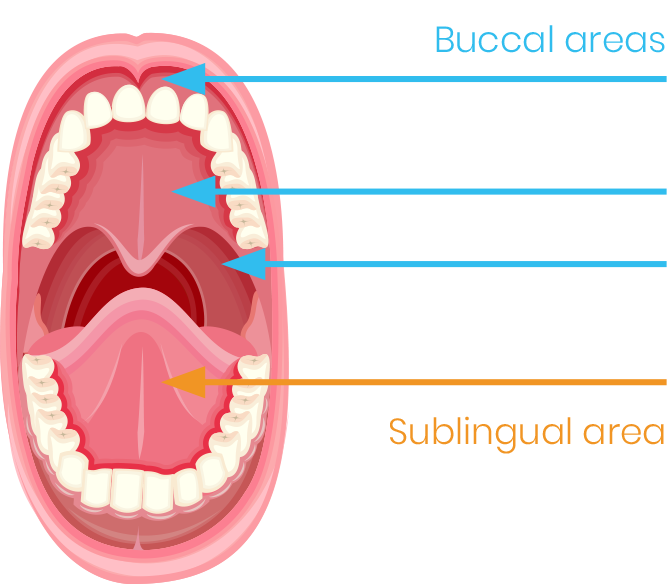 There are already quite a number of pharmaceutical drugs making use of this delivery principle. It is important to remember that there are different types of mucosa present in the bucal cavity. Their main difference is degree of keratinization. The sublingual and bucal part are the most suitable for transmucosal delivery with low keratinization and a rapid replacement rate of epithelial cells (5-7 days).
Drugs must pass through the mucus layer, which is the first step in absorption. However, mucin - as the main component of mucosa - has a tendency to bind to the solutes and may be hindering diffusion. Formulations containing drugs and phospholipids in liposomal form will allow better diffusion through the mucosa and absorption into the surrounding tissue.
One of the first ideas that comes to mind is treatment of tooth aches in children. No pills, just a liposomal lotion containing a mild pain relief drug, applied with a soft brush to the gums where the teeth ache. And a liposomal rinsing solution containing both antimicrobial and pain relief drugs may be suitable for adults as an alternative to tablets against pain after tooth extraction.
Transmucosal formulations with Phospholipids can be considered a non-invasive alternative to injections. The mouth is a very sensitive part of our body and it may be preferential to apply anaesthetics or antibiotics in a liposomal lotion or solution. Resorption usually will not take longer than locally injected drugs.
Chewing gum with nicotine in liposomal form already exists. Why not a liposomal preparation of ASS in a sublingual tablet that dissolves in seconds?
The list of ideas gets very long, especially considering that many drugs do not easily bypass the blood-brain barrier.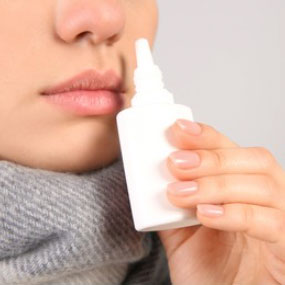 Nasal Delivery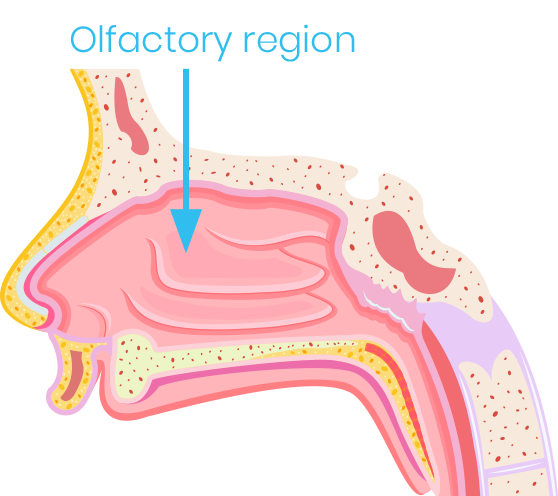 Nasal drug delivery has been applied in Indian Ayurvedic medicine for centuries and is being rediscovered for application of modern drugs. Similar to the use of buccal mucosa, nasal mucosa may offer an innovative way of very efficient drug delivery. One of the main advantages is of course circumventing the first-path elimination of drugs. Additionally, delivery through the nose offers one special feature: There is a direct connection from the nose through the olfactory tract to the brain, which unfortunately also is well known by addicts using narcotic drugs.
The most important factor limiting nasal absorption of polar drugs and especially those with high molecular weight (peptides and proteins) is low membrane permeability. However, such substances can only cross the mucosa in liposomal form. Nasal irritation is minimized when products are delivered at pH 4.5 to 6.5. Delivery volume is limited by the size of the nasal cavity and an upper limit of 25 mg/dose is recommended.
Everybody is aware of nasal sprays for treatment of a running nose. But why not consider formulating a liposomal spray for treating loss of olfactory perception due to a Covid-19 infection?
At the moment work is in progress to develop Covid-19 Boosters in the form of nasal sprays. This is based on the idea that intranasal vaccination will enhance immunity not only in the nose, but also in the upper respiratory tract and the lungs. Scientists at Yale University School of Medicine believe that Covid-19 infections can thus be stopped before they spread in the body. The principle of using phospholipids for nano-encapsulation of mRNA and other COVID-vaccines can still be applied to assist rapid absorption into mucosal tissue of the nose.
One more thought: It is known that one reason of beginning dementia is de-myelination of the brain. Would it make sense to supply sphingomyelin to the brain without going through the digestive system? More on this subject can be found in the pages on nutraceuticals.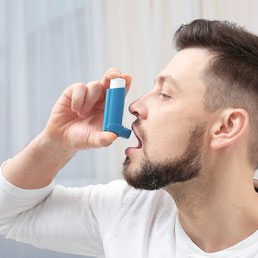 Pulmonary Delivery
First trials some 50 years ago focused on treatment of respiratory distress syndrome (RDS) in premature new-born babies. RDS occurs, when lung surfactant is insufficient for opening and extending lung tissue after birth. Using phospholipids extracted from the lungs of sus scrofa (pigs), it could be shown that unfolding of the lungs was successfully supported. Today purified natural phospholipids from plant origin or synthetic phospholipids are used as surfactants in this application.
Bronchial obstruction (by Asthma, COPD, cystic fibrosis) is usually treated by using different types of inhalers. Initially a lot of work was spent in the years from 1980 to 1990 on development of reliable delivery systems and success came with the introduction of dry powder inhaler (DPI) and pressurised metered dose inhaler (pMDI). They supply a predetermined quantity of active pharmaceutical ingredients (APIs) with every push of the trigger.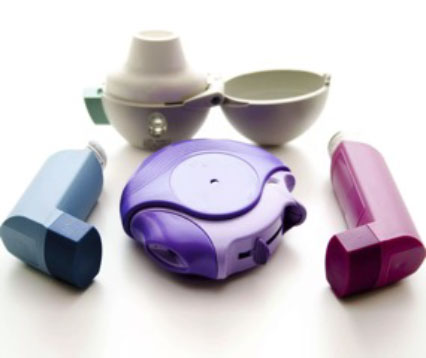 Improved bioavailability of drugs can additionally be achieved by using phospholipids in the form of liposomal solutions or micronized powders coated with phospholipids.
Delivery of drugs by inhalation is faced with the same problems as outlined in the previous chapters on mucosal delivery. They must be formulated in such a way that they can surpass the mucosal membrane of bronchi and lungs. Such liposomal formulations already exist for a number of drugs (e.g. ciprofloxacin).
Vaginal Delivery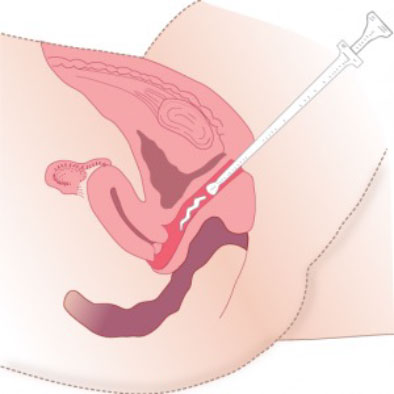 Applicator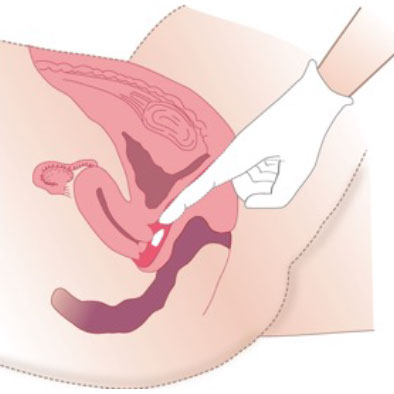 Suppository

Source: https://en.wikipedia.org/wiki/Intravaginal_administration
Most existing preparations, such as creams, foams, gels, rinsing lotions and tablets cover the vaginal mucosa only for a relatively short period. Personal hygiene and the self-cleaning action of the vagina often remove APIs before they become effective.
Contraceptive formulations for short-term vaginal use are an alternative to oral intake of the pill, as many women have problems with tolerance of artificial hormones.
For improving bioavailability and prolonging local effectiveness, non-irritant phospholipids as emulsifiers and liposomal excipients are the products of choice. Optimal results are obtained with drugs applied by an applicator or in the form of suppositories, which are usually preferred by patients for ease of handling.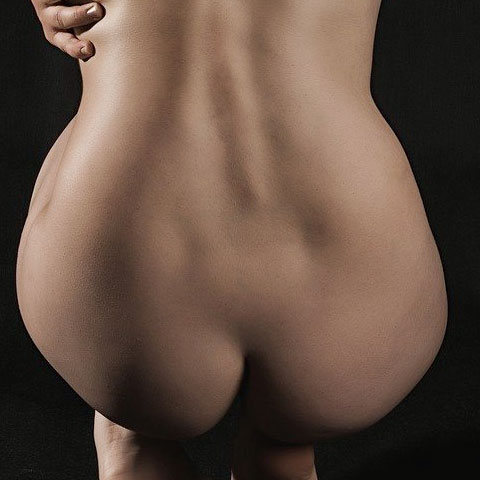 Rectal Delivery
As a rule of thumb, drugs administered rectally will reduce first-path elimination by about 70 %, leading to much better bioavailability. As in all transmucosal applications, the specific structure of the mucosa in the rectal area plays a major role for penetration of drugs. Usually uptake of the drug is faster, reaching its peak level in shorter time and drug effect on the digestive system will be shorter than in oral administration. Preferred forms of application are suppositories and micro-enemas.
Rectal administration of drugs is recommended for infants from the age of about 6 months, at which time their digestive system is well developed and intestinal flora more stable. From then on, rectal administration is recommended as a very suitable form of drug delivery in children. Using this method will also avoid watching and experiencing the sometimes quite painful injection procedure and may help children not to develop an aversion to it.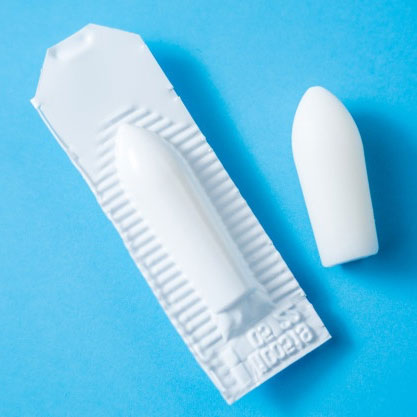 Rectal suppositories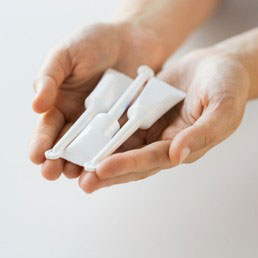 Micro-enema
In literature it is also suggested to replace injections during care of terminally ill patients with rectal administration. This is much less stressful for the patients and - as a non-invasive way of administration - leaves veins and tissue of arms and legs untouched.